Pendle Hill: Framing the Sacred: The Spiritual Journey of Photography
Saturday, April 28, 2018 -

09:30

to

16:00
https://pendlehill.org/events/framing-sacred-spiritual-journey-photography/#.WnkaSGnwapZ
Framing the Sacred: The Spiritual Journey of Photography
Apr 28, 2018
9:30am - 4:00pm

$130, includes lunch.
"In the beginning, God created…" Morning worship with these primary biblical words as inspiration – then with our cameras aiding our sacred witness, we will embark on a springtime walking meditation of gratitude, beholding the grandeur of creation. With Love as the first motion, how do our souls, or the eyes of our hearts, magnify creation, ourselves, each other? Let us discover where the quickening of the Spirit leads us. What are the fruits of the Spirit for your day today? Throughout our sharing time together, poetry of awe.
Participants are asked to bring a digital camera with which they have some familiarity.
Leader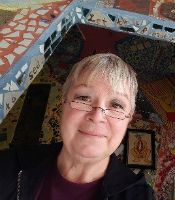 Sharon Gunther is a professional photographer for 45 years, now retired, and a convinced Quaker for 35 years. Living the process of integrating the spiritual and the secular realms has been intentional. Sharon has exhibited her work at Pendle Hill and has led 5-day courses at Pendle Hill on photography as a spiritual path; has led week-long workshops at Friends General Conference; and currently teaches photography at Fleisher Art Memorial. Sharon is member of Swarthmore Friends Meeting, Philadelphia Yearly Meeting.
Type of Event: