Pendle Hill Within and Without
Thursday, October 11, 2018 - 18:00

to

Sunday, October 14, 2018 - 13:00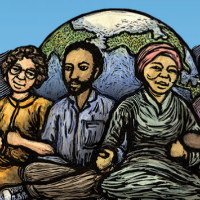 Within and Without: Liberation Theology at Work in Social Movements
Oct. 11-14, 2018
If you are seeking financial assistance to participate in this program, please click on the link for our Financial Assistance Application form, below. Do NOT register online.
Please e-mail
jmeyer@pendlehill.org
for information on group discounts.
Pictured: "Here to Stay" (c) Ricardo Levins Morales
We live in a world in which poverty, violence, injustice, and inequality are different manifestations of long and historical oppressions. Many religious faiths share the conviction that love incarnates in concrete actions toward liberating the oppressed from structures and systems that bind them and restoring the human community to dignity and peace with justice. How are we bringing our faith and spiritual practices to exercise the praxis of liberation to which we are called in this historical moment?
We invite you to join an interfaith community in exploring how liberation is at work in our religious and social movements today. Together, we will:
Learn about the work of faith communities in dismantling structural injustice.
Identify creative non-violence practices for social action.
Expand our community interfaith network.
Explore spiritual practices that nurture our work for personal and societal transformation.
https://pendlehill.org/events/liberation-theology-conference/#.WyvQZFVKi7Q
Type of Event: